In Proto.io, a project corresponds to a prototype. From your account's Dashboard, you can create a project, manage all your projects, see an overview, edit their settings and perform a number of actions.
Creating a project
You can easily create a new Proto.io project from your Dashboard. You give it a name, select a project type, and select the device you are designing for (or define your own). Once your project is created, you can view it in your Dashboard's Projects section.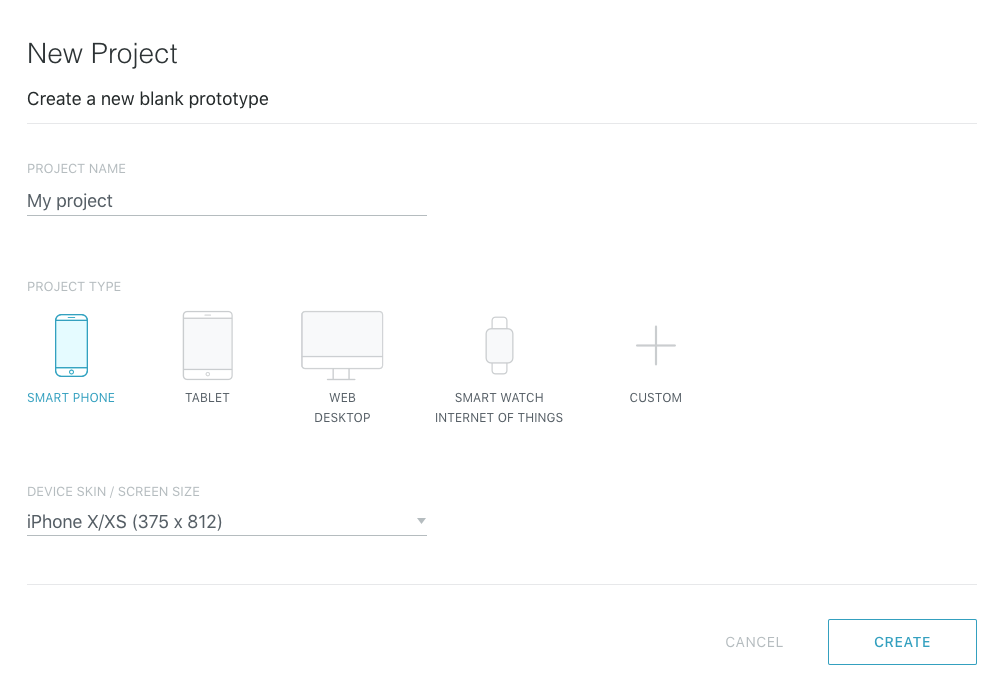 The number of projects you are allowed to have in your account depends on your subscription plan. Archived projects do not count towards that limit.
Project settings
After creating a new project or later on, you can change your project's settings. Settings managed through the Dashboard include:
Project name
Project's selected device (see Custom Devices)
Project's default orientation (Portrait or Landscape)
Project Analytics
Project app icon
User access
Reviewer access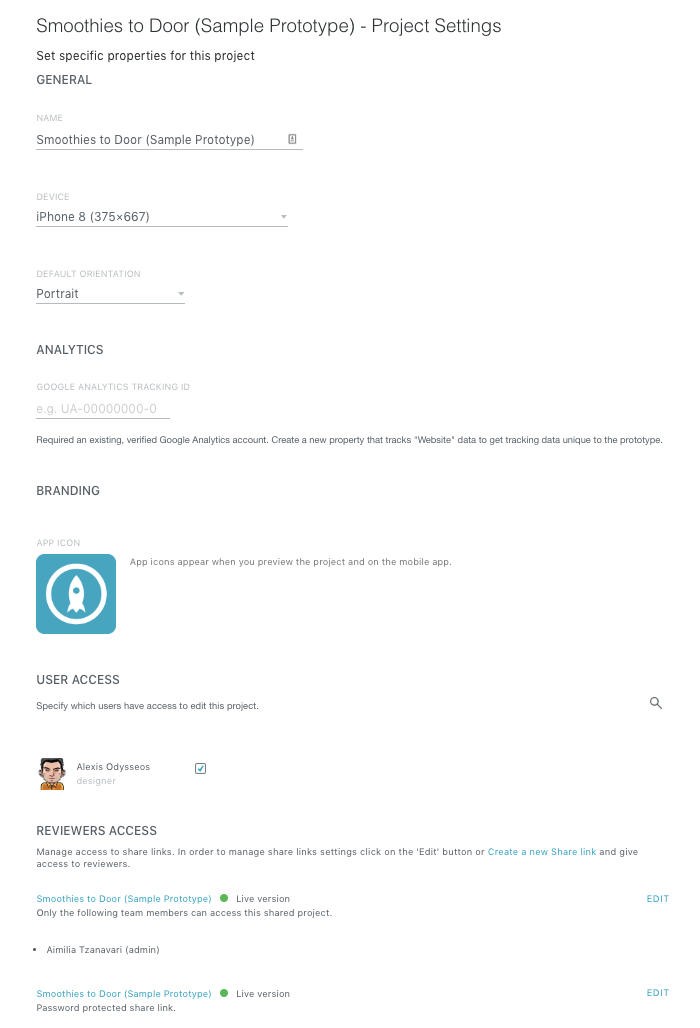 Deleting
You can easily delete a project you do not need anymore. When you delete a project, you will not be able to later recover it. This is a permanent action.
The owner and admins have full access to delete projects. Designers can not delete projects.
If you want to temporarily deactivate a project, you can choose to archive it. (See Archiving and activating projects in the section below).
Organizing projects into groups
You can organize your projects into groups. Each group has a title and an associated color. You can then filter your Projects list by group name so that you can easily find projects.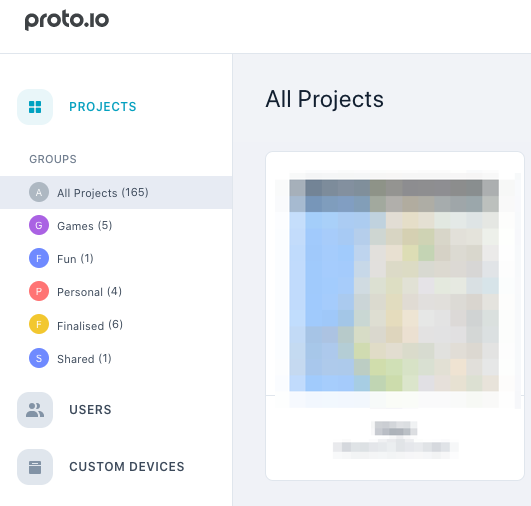 From a project's 'MORE' dropdown menu, you can add a project to a group, remove from a group, or move to a different group.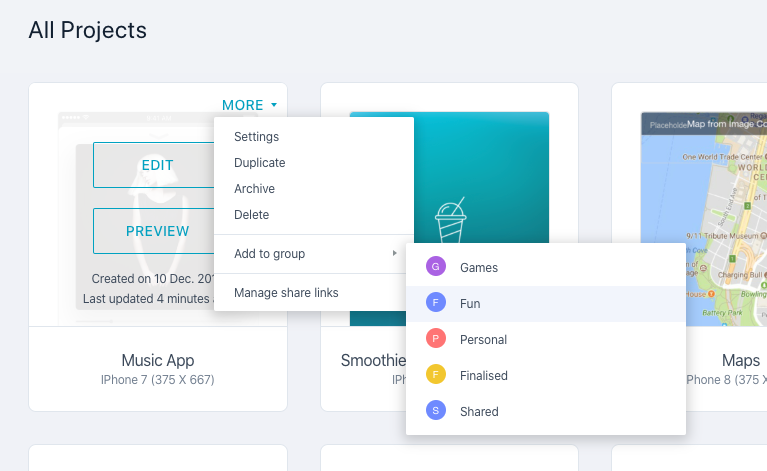 Groups are available to Corporate and Enterprise plans: account owners and admins can view, edit and delete groups; users with 'designer' roles see groups that have projects where they have access to and can move/add projects to these groups.
Archiving and activating projects
If you don't work on a particular project anymore, you can temporarily make it inactive, by archiving it. It's like keeping it in a filing cabinet. This way the project will not count towards your project limit.
Archiving a project immediately disables all access to it, for either viewing or editing, for all users. It also pauses its Share links. The project is kept in its original state.
You can easily restore a project from its 'archived' status at any time.
Project archiving and restoring is only available to Account Owners, Admins and Designers.
Editing a project (designing)
You can edit your Proto.io projects in the Proto.io Editor. Depending on the device you chose for your prototype, the editor's canvas adjusts accordingly. You can design your prototype's interface using the UI libraries available, or by importing your own assets. You can easily add powerful interactions and impressive animations.
Preview
You can see how your prototype would work if viewed on the selected device, by previewing your project in the Proto.io Player.
Collaborating on a project
You can collaborate with your team members through Proto.io by inviting them to edit and/or review your projects. To give them access, you need to add them as users in your account (see Setting up users)
As an owner, you can add editor's comments to your project's preview in the Player. These comments are only viewed by users who have edit rights to your project. You can specify who gets notified about these comments. Other editors will be able to respond to these comments or add new.
When you share your project through a Share link, reviewers or other stakeholders can give you feedback on your shared prototype in a number of ways (see Sharing your project).
At the moment, multiple users cannot simultaneously edit a project.
Sharing a project for review
You can share your project to receive feedback from your team, reviewers or other users to help you improve your design. See more on Sharing your project.
Other actions
You can perform the following additional actions on projects:
Duplicate project (Creates an identical copy of your project. You can choose a new name, a new device, and a new default orientation)
Grant or revoke access to users (see Setting up users)
Grant or revoke access to reviewers (see Sharing your project)
Edit Share links (see Sharing your project)
Search all projects