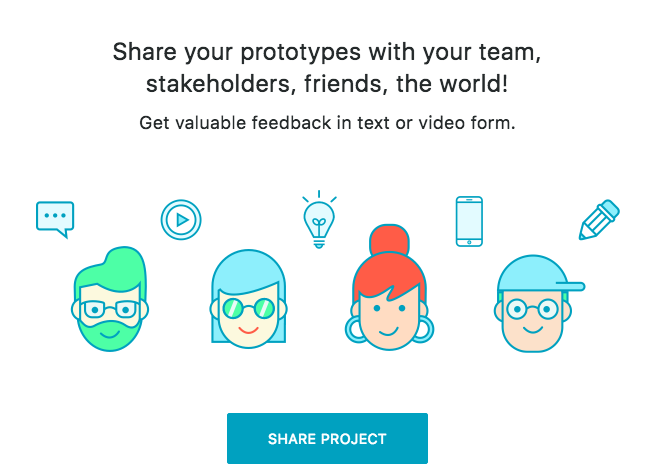 Sharing Basics
You can share your Proto.io project using Share links, that is, links that can be accessed by others.
You can choose to share your prototype as:
Share a live version of your prototype. Any changes made to your prototype will be visible to the people who access this Share link
Share a version of your prototype taken at that exact moment in time. Any changes made to your prototype after this moment, will not be visible to people who access this Share link.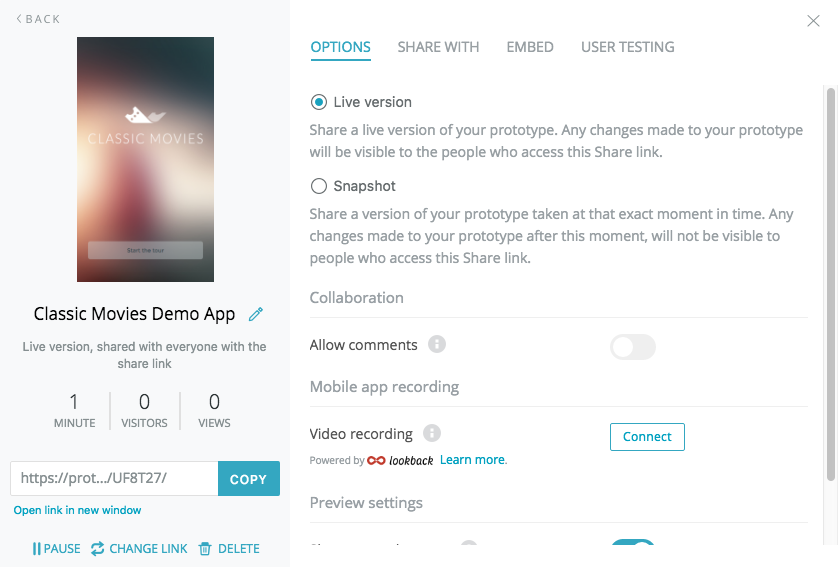 You have two options for who can access your Share links:
Everyone with the share link
You can copy and send this Share link to anyone you want. You have the option to password protect this (see section below).
With this option, your Share link is accessible to Reviewers only. Sign-in is required.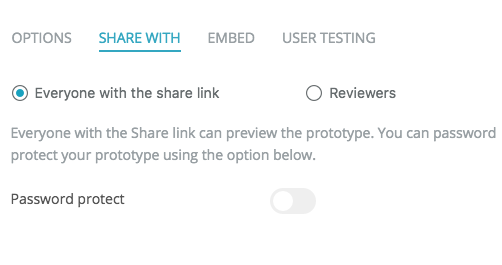 Simple sharing with everyone
When you create a new Share link, it is initially a 'Live Version shared with everyone with the share link'. This means that it is public and anyone can access it as long as they have the link. They will be accessing a live version of your prototype. You can copy this link and send in any way you prefer (e.g. email, text message, etc).

The person who accesses this share link can view it in a browser window, or in the Proto.io app.
Sharing with Reviewers
If you want to privately share with your team (including Designers and/or Reviewers) for review, then you can choose this option. This means that the Share link is only accessible by the people you give access to, upon signing in with their Proto.io account credentials.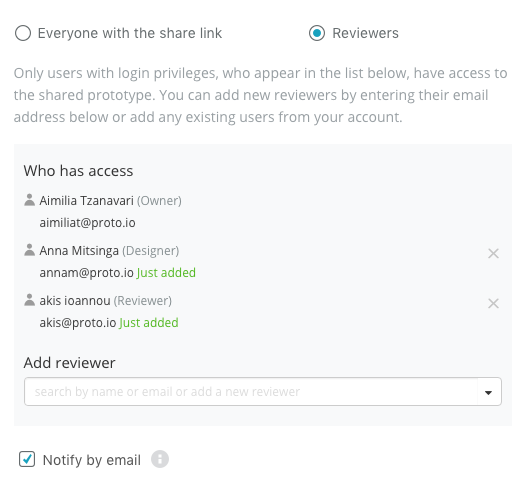 Procedure
You enter their email addresses and add them to the list of people who have access. They are instantly given access to the particular share link. If they click on the Share link and already have a Proto.io account, they can sign in and preview it, otherwise, they will be guided through the Reviewer signup process first. (You can also see How do I add reviewers?)
You can choose to notify them if you want. They will get a standard email notifying them about reviewing this shared prototype, or you can choose to edit your own message.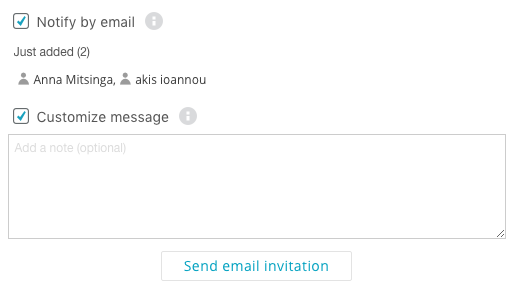 The person who receives this share link can view it in a browser window, or in the Proto.io app.
Password Protect
When you are sharing with 'Everyone with the link' you can add some security by password protecting your Share link. This way only the people to whom you give this password will be able to preview the Share link.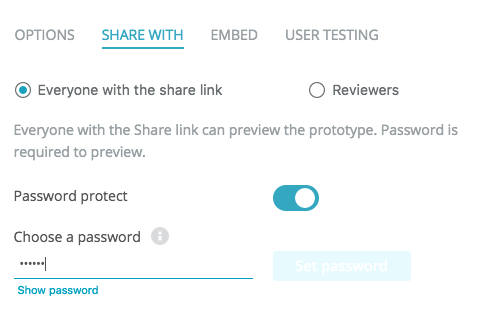 Note: Your password is encrypted and therefore cannot be retrieved. If you lose or forget this password, you will have to change it to a new one.
Options
Users are allowed to comment on the prototype.
Users will see a toggle to make hotspots visible.
Show navigational elements
Users will see a screen browser on the right to navigate through pages.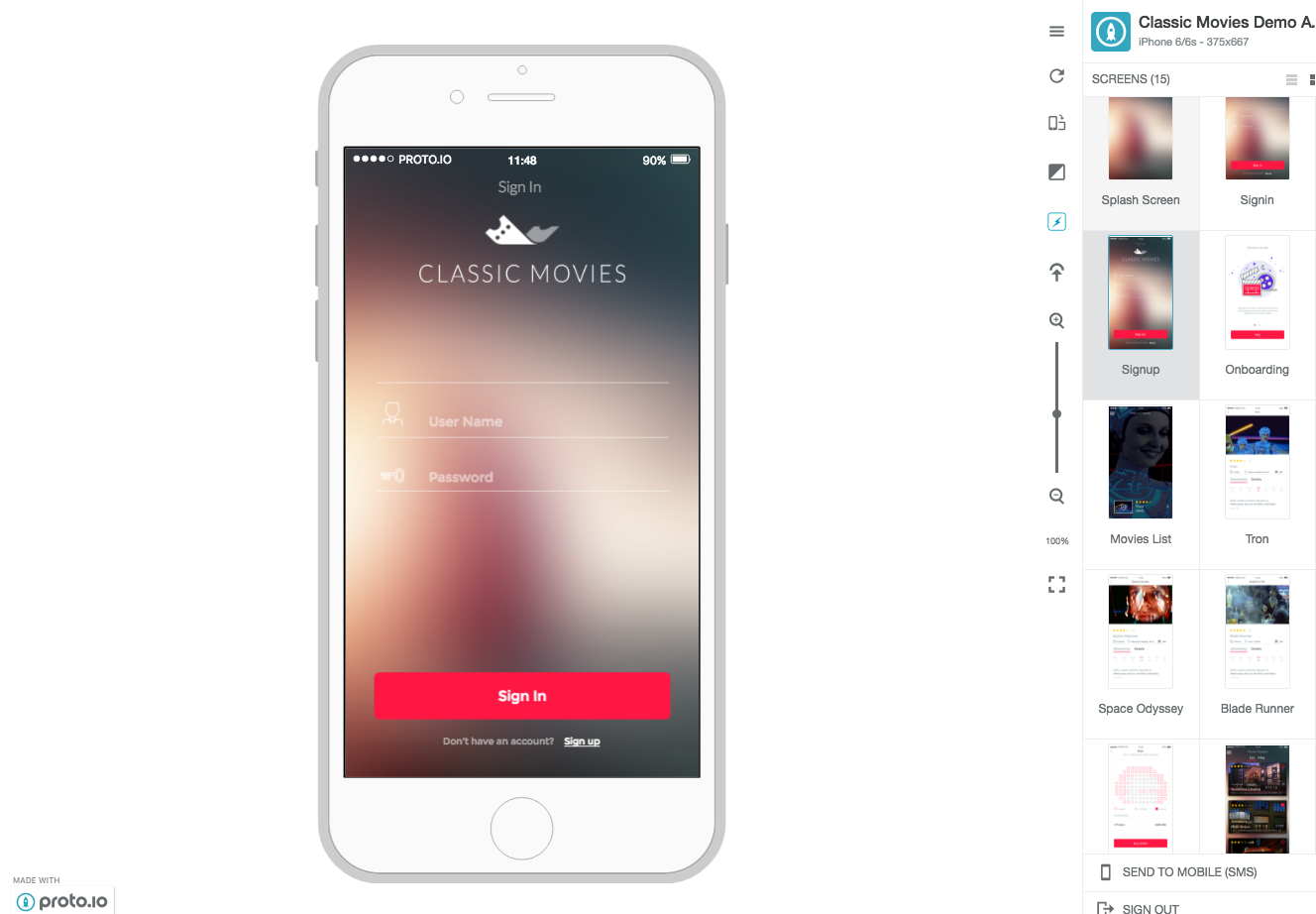 Actions
Generates a new Snapshot of your prototype (replaces previous one). This is useful when you made some changes to your prototype and want them to be visible to the people who access this Share link.
You can Pause a Share link that is currently live. This is useful when you don't want people to access it anymore, but you want to keep it in your list for reference.
You can resume a Share link that is paused.
Generates a new link for your Share link (replaces previous one). This is useful when you want to make the previous link invalid for some reason (e.g. security)
Permanently deletes the Share link. You cannot recover a deleted Share link.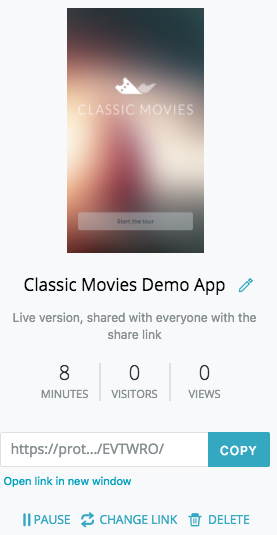 Commenting
Anyone who has access to the Share link can add comments, as long as the creator has allowed them (see Options above).
In that case, you can use the relevant switch, to make comments visible in the Player while previewing the prototype. You will be asked to identify yourself the first time. There are no anonymous comments.
You can add comments by clicking anywhere in, or out of the prototype. You can also reply to others' comments. Comments are visible to all. You can optionally choose to notify other reviewers when you add comments.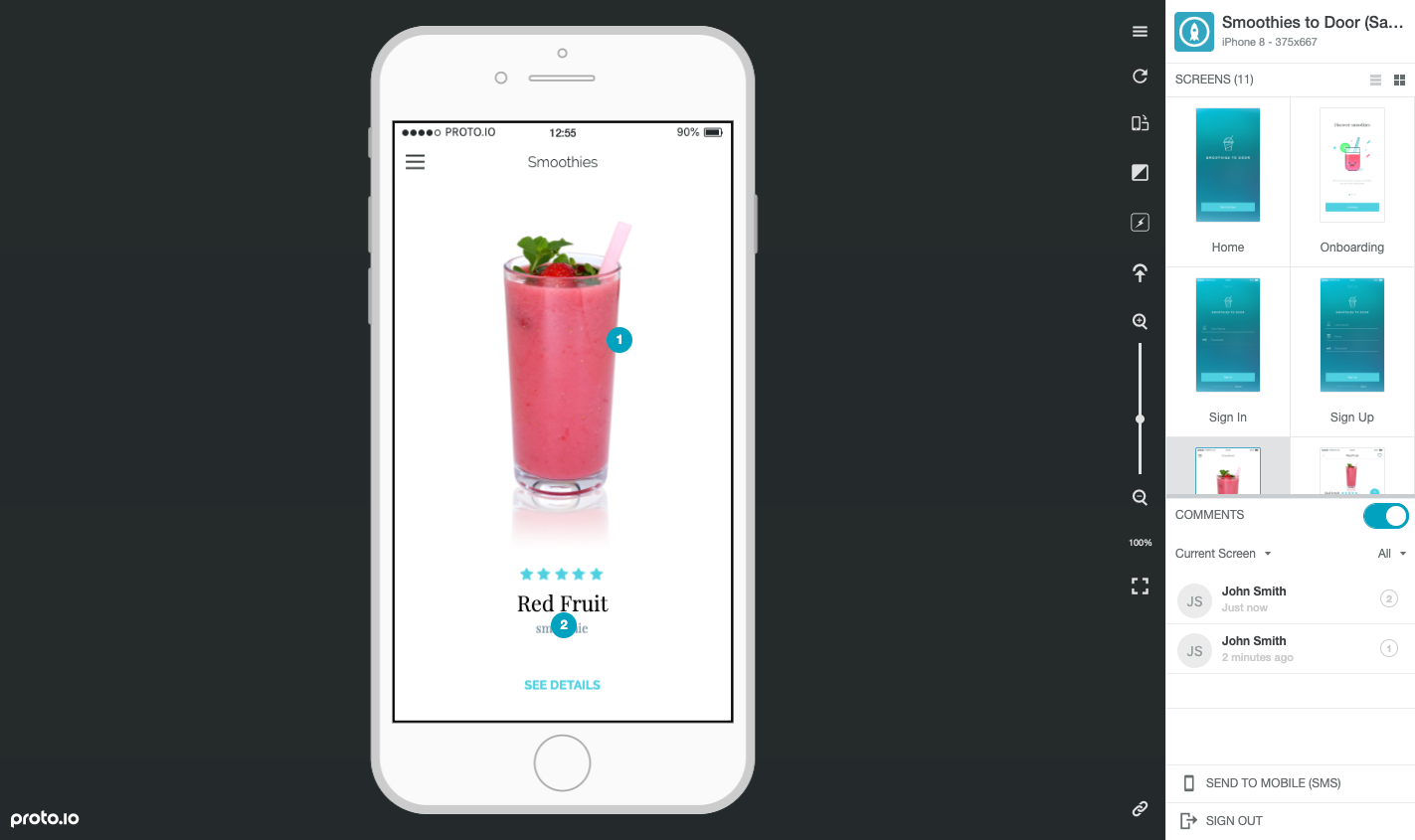 Embedding your Proto.io prototype in a website
Easily embed your project into your website, portfolio or blog by copying/pasting a few lines of embed code generated by Proto.io in the Share modal. Please note that your Share link has to be public, in other words, shared with everyone and not password protected. You can optionally resize the embedded prototype by changing the Width and Height values.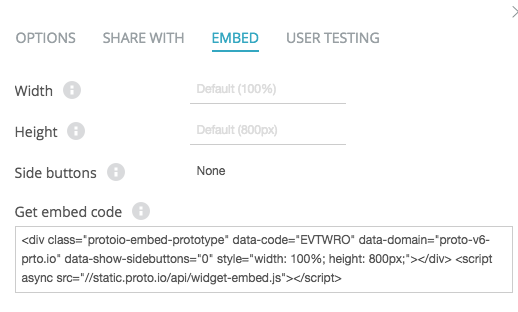 Note: If your Share link is 'Live Preview' then the embed will update itself to always show the latest version of your prototype.
User Testing
The last tab in the Share modal is User Testing. Proto.io works closely with specialized user research and user testing platforms to ensure you get the most valuable feedback for your Proto.io prototypes.
See Sharing and Collaboration - User testing with UserZoom, User testing with UserTesting, User testing with UXArmy, and User testing with Userlytics.
Security
Extra security options are available to enterprise accounts, upon request. These include restricting public sharing and restricting reviewers' email addresses to a specific domain. These options are visible to the account owner, under Account Settings in the Dashboard.