Browser Requirements
Proto.io Dashboard and Editor are fully compatible with most browsers including Chrome, Safari, Firefox. Internet Explorer and Edge are not supported.
Proto.io Web Player is fully compatible with WebKit browsers like Chrome and Safari. There are some incompatibility issues with Firefox (e.g. unable to preview screen transitions and animations).
For maximum compatibility use Chrome or Safari.
Minimum recommended screen size 1366x768.
Dashboard
The Proto.io Dashboard is the first screen you see when you login to your Proto.io account. It provides overall access to your projects, your users, as well as your custom devices, subscription management, and branding options.
The Dashboard is organized into the following areas.
Main Menu
From this menu, you can navigate through your Proto.io projects, your users, and your custom devices. Under each one, you are given options create new, or manage existing ones.
Projects are your prototypes. (see Creating and Managing projects)
Users are the people for whom you create accounts for collaborating, either as designers, admins, or reviewers (see Setting up users).
Addons, with links to download the Proto.io app, to sync with Dropbox, to download the Sketch/Photoshop plugins and to go to Proto.io Spaces.
Learn, with links to the User Guide, the Getting Started video and to submit a support request.
Custom Devices in Proto.io 6 are managed through the profile menu (top right in the Dashboard).
Add-ons
In this section, you can see the Tools and Add-ons available for Proto.io users. Currently, the following are available:
an add-on for Photoshop to effortlessly use your Photoshop files in Proto.io,
an add-on for Sketch for seamlessly importing and using your Sketch files,
option to sync with your Dropbox account to use all the assets you keep in one place,
the Proto.io App, a must-have to view your Proto.io prototypes on the actual mobile device for greater user experience
Proto.io Spaces, an interactive prototype gallery for you to showcase your work and get inspired by the work of others.
Account Management
This section is accessed by clicking on your name at the top right corner to open up a menu of options. All users regardless of their role (owner, designer, reviewer) can manage their profile (e.g. personal details, password, photo, etc). You can also switch between accounts in case you have more than one.
Account owners can also manage their account settings and access billing information.
Furthermore, there are options to edit company branding details, such as logo or custom URL. Subscription plans and other billing related information can be accessed here. Account owners can also cancel their subscription, close (delete) or park their account, as well as see previous payments made (see Billing Settings).
Custom Devices are also accessible from this menu. They are the devices you define for using in your projects (see Creating a custom device for my project). Proto.io already has a default list of the most popular devices to choose from.
Learn
Proto.io has a plethora of learning resources to help users achieve their goals. In the relevant Dashboard section, you have access to the 'Getting Started' video, a link to the User Guide and a link to easily submit a request to our Support team.
Editor
When you choose to EDIT a project from the Dashboard, the Proto.io Editor launches for you to design its interface. It is the Proto.io authoring environment. Learn more about the Editor in Editor Basics.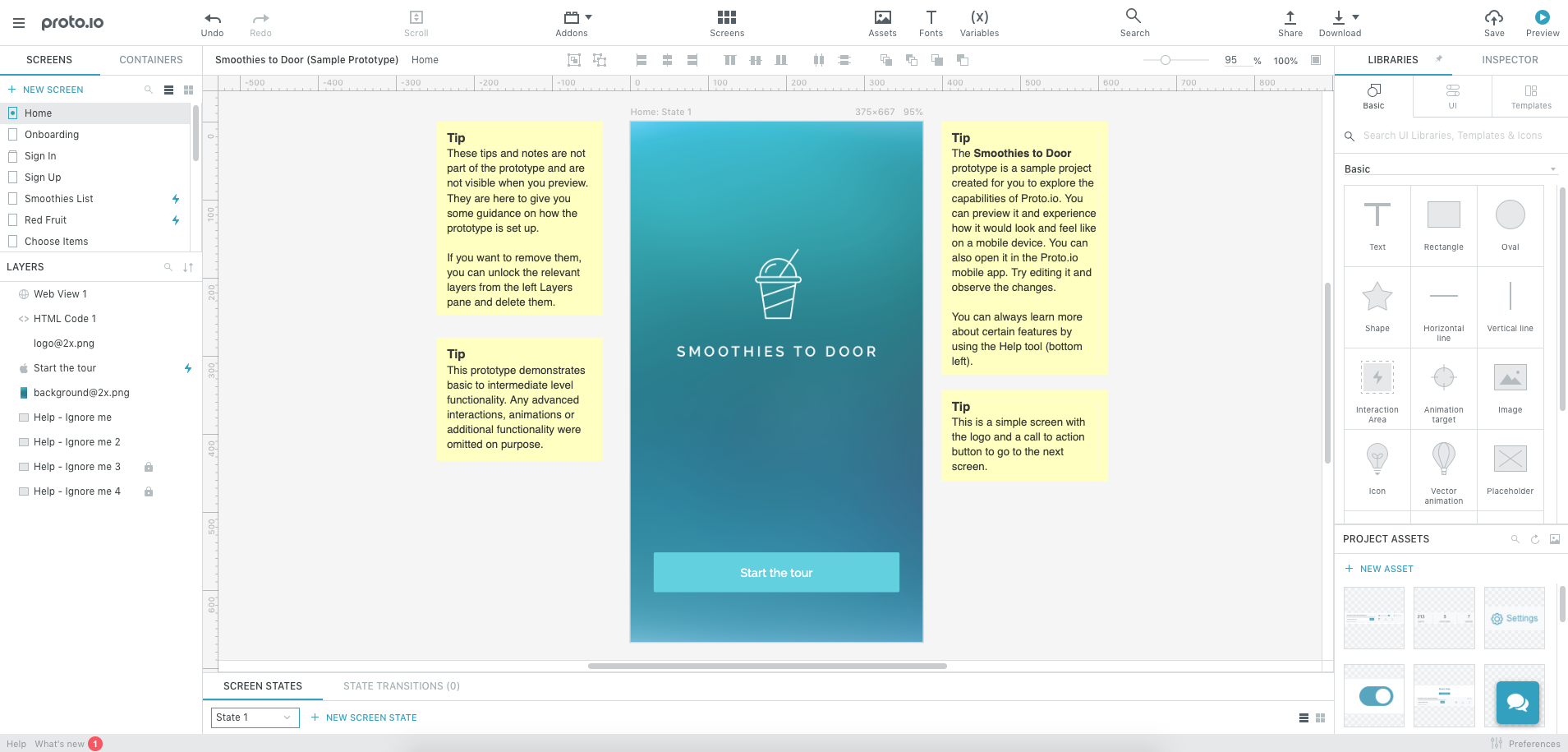 Player
The Proto.io Player is used to preview your project as it would look like and behave like in the actual device. Learn more about the Player in Player - previewing your prototype.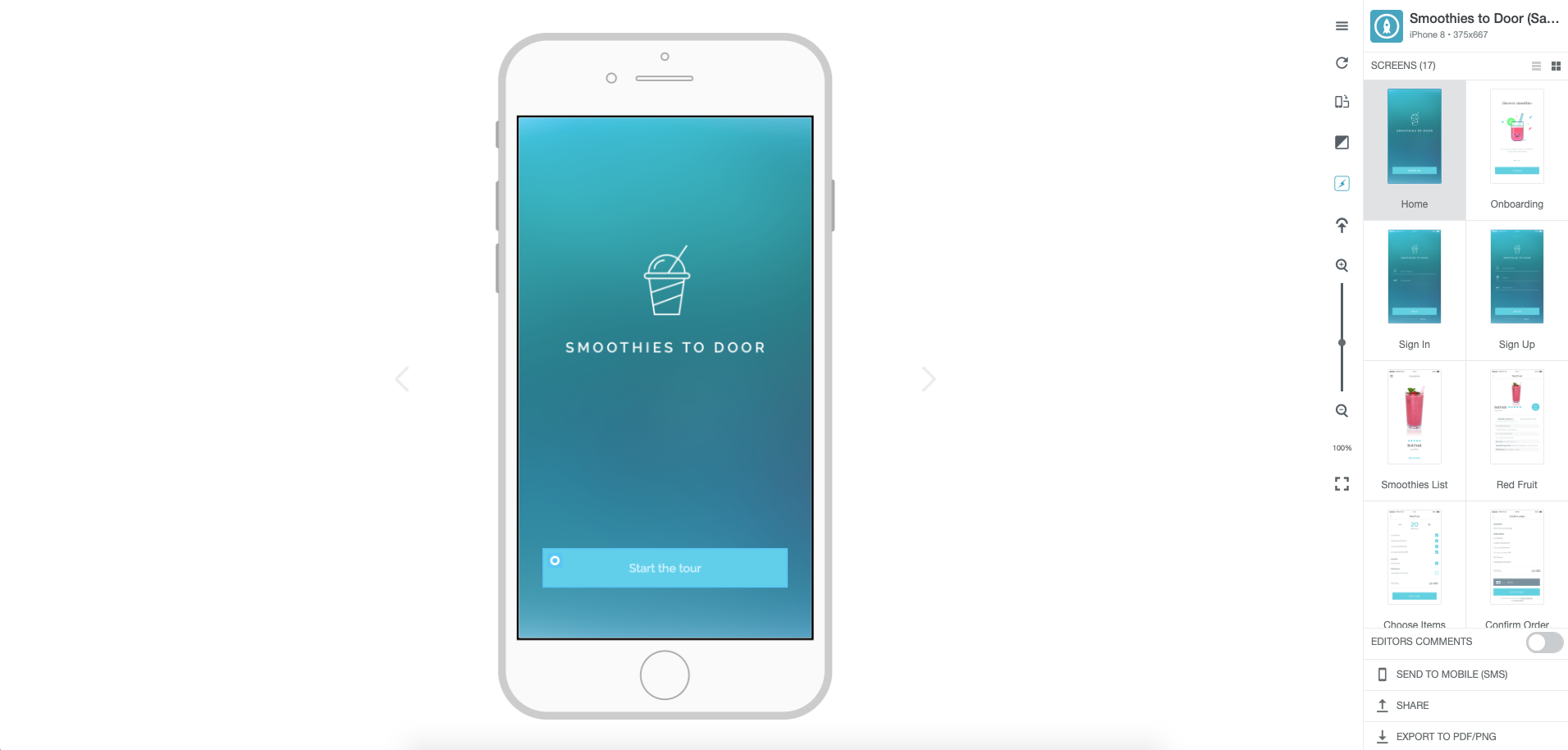 Proto.io app
The Proto.io App available for iOS and Android is for experiencing your prototype on the actual device. The Proto.io App brings your Proto.io projects to life. It allows you to use all the native gestures to interact with elements and makes full use of your screen estate. Learn more about the app and how to download it here.
Proto.io Spaces
Proto.io Spaces (https://spaces.proto.io/) is an interactive prototype gallery for you to showcase your work and get inspired by the work of others. Learn more about setting up Proto.io Spaces in your account and sharing on Proto.io Spaces.