Roles/ Privileges explained
When you signup for a Proto.io account, you are the owner of that account. You can invite more users to join that account by choosing among 3 roles: admin, designer or reviewer.
You can see a summary of privileges, per user role in the table below: 
| | | | | |
| --- | --- | --- | --- | --- |
|   | Owner | Admin | Designer | Reviewer |
| Billing Settings | |   |   |   |
| Create/ Edit users | | |   |   |
| Create projects | | | |   |
| Edit (assigned) projects | | | |   |
| Delete (assigned) projects | | |   |   |
| Preview (assigned) projects | | | | |
| Share projects | | | |   |
| Comment | | | | |
| Archive/ Restore projects | | |   |   |
| Add/ Edit/ Delete groups  | |   |   |   |
| Move/ Add projects to groups |   |   |   |   |
A user can have more than one role, but in different accounts, e.g. a user can be the owner of his account and a designer of a project in a different account (See Switching between accounts).
Creating users
You can create new users in Proto.io from your Dashboard (owners and admins can do this). You will need to give their name, a valid email address and select a role: admin or designer.
Reviewers are created while you are sharing your project and are given access to specific Share links (see Sharing your Proto.io project). You can create a reviewer by simply entering their email address in the 'Add reviewer' field (see image below). An invitation will be sent for them to sign up.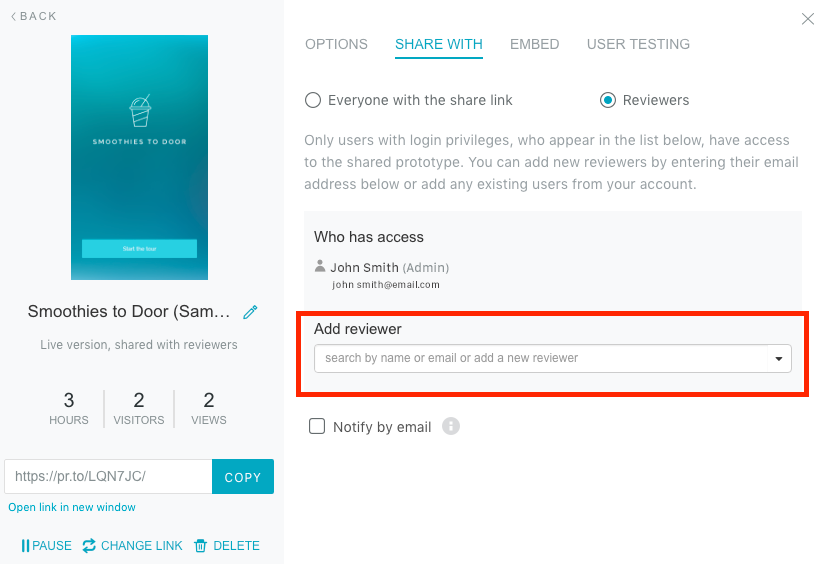 When creating designers you will have to assign them (i.e. give them access to) to the project(s) you want.
Newly created users receive a notification that guides them through the signup process.
The limit of users per account is determined by the subscription plan, but reviewers do not count towards that limit.
Previously reviewers were created from the Dashboard. In Proto.io 6 reviewers are created from the Share Project modal, given access to specific Share links.
Editing user settings
As an account owner (or admin) you can edit the settings of users you created from your Dashboard. You can:
Change role (Change between admin, designer, and reviewer).
Change access to assigned projects (Grant or revoke access to particular projects).
Change access status (Grant or revoke user access to your account. Users with revoked access do not count towards your user limit).
Delete user (Permanently delete a user).
Changing the account owner
You cannot change the account owner yourself. In this case, please contact our friendly Customer Support (support@proto.io) to help you.