Organizing projects into groups
You can organize your projects into groups. Each group has a title and an associated color. You can then filter your Projects list by group name so that you can easily find projects.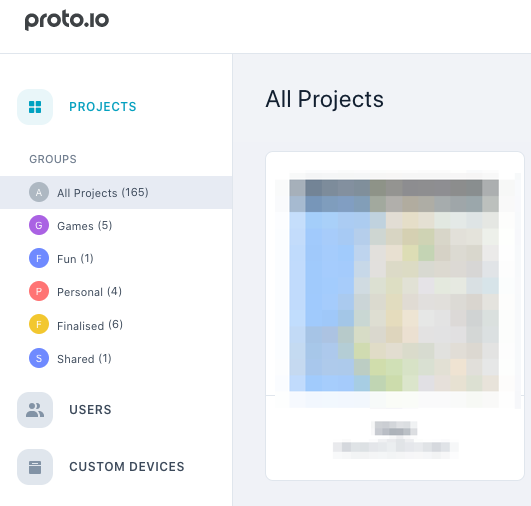 From a project's 'MORE' dropdown menu, you can add a project to a group, remove it from a group, or move to a different group.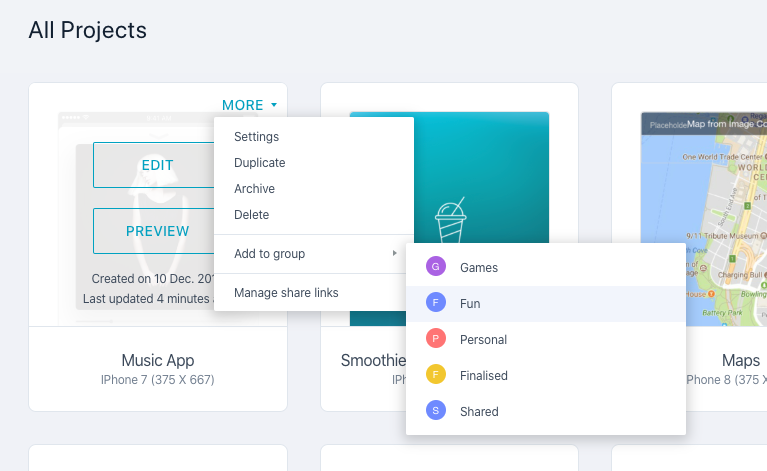 Note: Groups are available to Corporate and Enterprise plans: account owners and admins can view, edit and delete groups; users with 'designer' roles see groups with projects they have access to and can move/add projects to these groups.
Archiving and activating projects
If you don't work on a particular project anymore, you can temporarily make it inactive by archiving it. It's like keeping it in a filing cabinet. This way, the project will not count towards your project limit.
Archiving a project immediately disables all access to it, for viewing or editing, for all users. It also pauses its Share links. The project is kept in its original state.
You can easily restore a project from its 'archived' status at any time.
Other actions
You can perform the following additional actions on projects:
Duplicate project (Creates an identical copy of your project. You can choose a new name, a new device, and a new default orientation)

Grant or revoke access to users (see Setting up user

s

)

Grant or revoke access to reviewers (see

Sharing with reviewers

)

Edit Share links (see

Sharing actions

)

Search all projects